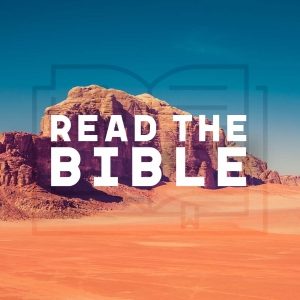 In 2022, we are reading through the entirety of the Bible together. The Word of God has always been central to the people of God. In Deuteronomy 31:12, Moses commanded that at the end of every seven years, God's people were to gather and have the whole of Scripture read over them. We wanted to start establishing that rhythm in our community. God's Word is transforming and powerful; we know He will do incredible things in and through us as we consistently strive to spend time in His Word. We encourage you to pick up wherever we're at and dive in.
For the daily reading plan and resources, download our app on Apple or Google Play, go to our Read the Bible webpage or snag a bookmark on a Sunday morning.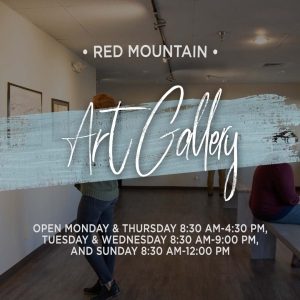 The Red Mountain Art Gallery is a space on our campus to reflect and ponder the work of our artist community. As our church seeks to Read the Bible in its entirety over the course of this year, our art gallery will feature exhibits that parallel our reading. It is our prayer that this gallery will foster meditation on scripture in a unique way and create space to engage with the Lord and each other through visual art.
The gallery space can be accessed from the lower parking lot through an exterior door of the Gym building just East of the main entrance. The gallery is open for viewing each week, Sunday through Thursday.
Interested in contributing your art?
Red Mountain artists of various skill levels and mediums are invited to submit artwork for display in one or more of the exhibits. To submit your art or get more information, please email Joe Hughes at [email protected]. Take a look at this list of upcoming exhibits and see what you are inspired to create:
Wisdom & Poetry (April 3-June 12)
The Prophets (June 19-August 14)
This art gallery is made possible through a Vital Worship Grant from the Calvin Institute of Christian Worship, Grand Rapids, Michigan, with funds provided by Lilly Endowment Inc.
We Are Committed
Followers of Jesus
> Worshiping > Transforming > Sending >
Sunday Worship Services
9:00 AM & 10:30 AM
END OF YEAR GIVING
For 2020 tax credit purposes, contributions earmarked for Red Mountain Community Church must be postmarked by December 31, 2020 or physically received in the church offices no later than NOON ON TUESDAY, DECEMBER 31, 2020. Online and Text to Give contributions must be processed by midnight on December 31, 2020.