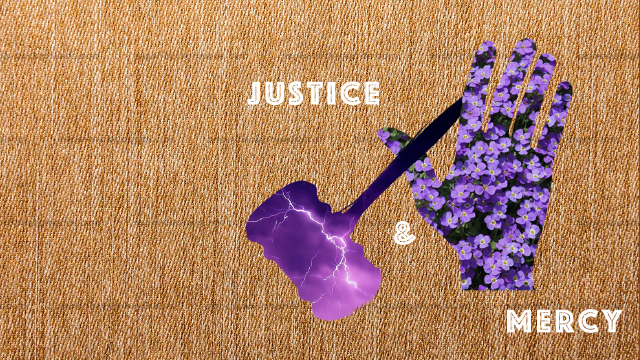 Justice & Mercy
How do justice and mercy go together?
When we think of mercy, we often think it is "anti-justice." If justice is "getting what you deserve," then mercy would have to be the opposite—someone not getting what they deserve. For example, we humans are sinners. We don't just do sinful things, we are sinners. The demands of justice are that when sin happens, the person must receive the consequences. The consequence for us being sinners is to spend eternity in hell. Yet, we Christians claim that we aren't going to hell. We claim that God is merciful towards us. How is that just? How can God be both just and merciful? Aren't they mutually exclusive? When I first began wrestling with this contradiction/inconsistency, it filled me with doubt about Christianity as a whole.
God has mercy on us because of what Jesus did.
Thankfully, someone pointed me to Romans 3. It deals with this very question. Paul says in verse 24 that we are justified by his grace as a gift, through Jesus Christ and his sacrifice. In other words, God has mercy on us because of what Jesus did. And then in verse 26, Paul says that all of this was "to show his righteousness [justice] at the present time, so that he might be just and the justifier of the one who has faith in Jesus." God has mercy on us because his justice was satisfied by Jesus Christ. Jesus took our punishment upon himself. What a beautiful plan God created to demonstrate his mercy and justice at the same time.
The more I understand this, the more freeing it becomes.
I think of at least two implications to this:
We have assurance of forgiveness. I am really glad for this one. When we ask God for forgiveness, we aren't hoping to catch him at the right time so he will hopefully be merciful to us. We are confident he will be merciful because his justice demands it. Jesus paid the penalty so we don't have to. If you are wondering if God could forgive you or if you are continually asking for forgiveness for a sin you committed a couple of years ago, then you are not understanding God's justice. Be assured of your forgiveness, because it is just for God to give it to you.
As bearers of God's name and his image, our relationships with one another can capture this balance between justice and mercy. This can only happen when at least one person in the relationship has faith in Jesus Christ and experienced the justice and mercy of God firsthand. We don't treat people how they "deserve" to be treated, in a sort of "serves 'em right" mentality, or in a "poor them" mentality. We treat them as people whom God desires to forgive and transform through belief in Jesus Christ.