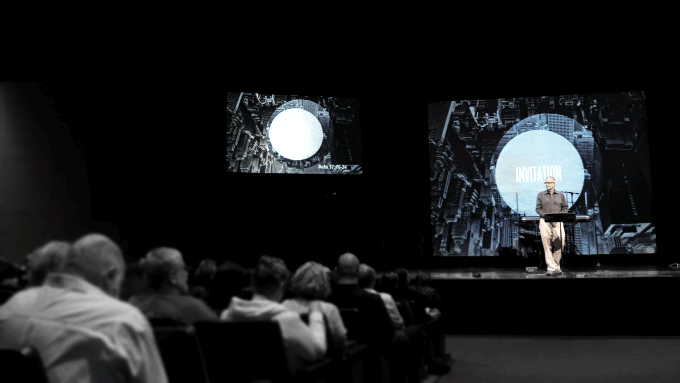 25 Years of Red Mountain

25 Years of Red Mountain was originally published in The View, February 24, 2015
By Jennifer Briney
Mesa, Arizona – From its humble beginnings in a small Italian restaurant, to servicing over 1,500 people in a newly renovated life center today, Red Mountain Community Church will celebrate 25 years of existence this coming Easter.
"We started Easter Sunday, 1990, at Anzio Landing," Lead Pastor Bob Fox said. "We moved here, to the current property, Easter Sunday 1995."
Since its creation in 1990, the church has experienced change; changes in location, in technology and in staffing.
"Technology is definitely the biggest [change]," Fox said. "I think when we first moved into the gym here the church owned one computer, now we own like 75."
While change is natural and unavoidable, there have been many important, foundational things that remain unchanged in the church. Fox explained how one thing in the church that remains constant is the need in the community, and other staff members discussed the constant and authentic vision of Red Mountain.
"Although the locations have been changing over the past 25 years, the atmosphere shares the same vision from when it all began," junior high pastor, Charlie Meo said. "That Red Mountain would be simple, practical and authentic, that is what I love about Red Mountain."
"What better purpose for life than to invest in the family of God."
Meo, 24, grew up at the church spending 20 of its 25 years of existence as a member. He recently graduated from Biola University returning to Red Mountain to lead the junior high ministry and is currently preparing to transition into being the College/20s pastor.
"My greatest accomplishment as a member of the church is choosing to invest 20 years of my short life, in loving a local church," Meo said. I think Jesus cares most about having healthy churches everywhere, and what better purpose for life than to invest in the family of God."
Worship pastor, Jessica Garcia expressed similar opinions in foundational concepts that have remained the same over the years. She also grew up in Red Mountain and returned as a pastor.
"The atmosphere has changed from that of a small church to that of a large church," Garcia said. "But the feeling is still the same. It is a group of people who want to genuinely know Christ and follow Him in everything,"
Red Mountain is an EFCA church in East Mesa with a newly re-casted vision of "Recapturing Life." The vision emphasizes recapturing life with God, in ourselves and with others.
"It isn't really that it is a radical shift from what we have always done," Fox said. "But the words are important to me, I like it because it shows some passion."
Over the past 25 years, Red Mountain has emphasized the importance of mission work. Supporting missionaries in Uganda, India and Latvia the church has sent countless teams over-seas for camps and other activities to encourage and share the vision of Red Mountain with families and children. The church is also involved in supporting churches in Rocky Point, Mexico, annually sending a team to build houses for families in need.
Not limited to work over-seas the church reaches out the local community here in Arizona as well. Members of the church work with refugees, and youth ministries dedicate nights to serving the members of the community in various ways. Through events such as BBQ's and an intricate Christmas light display the church opens itself up to the community, simply wanting to live life together with those in it.
"I enjoy things that the community can see and participate in, so my favorite things are probably the Christmas lights and food truck frenzy, the events where the community can walk on campus," Fox said. "I really really enjoy seeing the church people engage in the community."
While change happens, and change surely will continue to happen, Red Mountain has created a consistent and safe environment over the past 25 years for those who call it home encouraging members and non-members alike to recapture life with God, in themselves and with others.
"The greatest accomplishment of Red Mountain is that through the twists and turns of 25 years, we have chosen to align our lives with the Scriptures and the Story that God is telling in this world," Meo said. "This is the foundation for all of life."
We look forward to 25 years more.